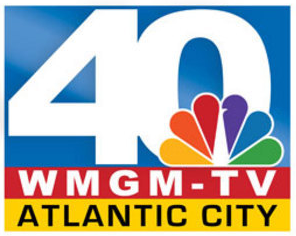 Happy New Year first of all from The Changing Newscasts Blog. And now that the new year is here, South Jersey no longer has access to television news.
Most of us heard of this by now, but for you what happened? idiots and just blacked out readers (I don't mean any of that) who have not heard, after 48 years of providing local television news to South Jersey, WMGM 40 stopped airing local news as of its 6:00 p.m. newscast yesterday. The 11:00 p.m. news was not shown and was replaced by a 1-hour documentary about the station called NewsCenter 40: The Stories Behind The Station. Once that was over, the station that was NBC for South Jersey is now gone. With it are Today in South Jersey at 6:00 a.m. on weekday mornings, NBC 40 News at 5:00/5:30/6:00 on weeknights and NBC 40 News at 11:00, nightly. WMGM 40's 48-year affiliation with NBC ended as well last night and now airs programming from the Soul of South Television Network.
The question is now… where will WMGM 40's former news department end up now? Michelle Dawn-Mooney, Dan Skeledon and Pete Thompson have fronted the nightly broadcasts at WMGM 40 for more than a decade and have since become fixtures in the South Jersey media. While they may not be on the air for now, Access.1 Communications hopes to return these 3 fixtures of South Jersey media and put them into a new channel with an expanded local news produce by Spring of this year.
MY TURN (a.k.a. opinion): It's really sad to see WMGM 40's NBC affiliation and it's local news go. This is a huge blow to South Jersey as this was THE ONLY option for local news in South Jersey, since nobody else delivered local news from the southern portion of the state. That's what kept WMGM 40 strong and what has made Michelle, Dan, Pete and the NBC 40 news team as fixtures in the market, because of how small the station was and how connected the viewers were to the anchors and vice versa. Its truly the end of an era to see WMGM 40 go as an NBC station. Not a really good move by Comcast at all.