FIRST ON THE BLOG: Ahh… the 4th of July. An American national holiday and a treasure to celebrate. Food, fun, fireworks and firing off more local news in Nashville. Wait what? Yes, as the title says, nothing more American than WZTV ready to celebrate the 4th of July with an extra half-hour morning newscast.
Starting on the 4th of July, which is a Monday this year, WZTV 17 will expand its weekday morning newscast, FOX 17 News This Morning to 4:00am, becoming the last station in the market to do so while also having Nashville become the first television market in the country to have a least four 4:00am morning newscasts.
The newscast is anchored by Kelly Rippin, A.J. Hilton and Jennifer Waddell with SkyWatch 17 Weather from AMS & NWA/Sealed Meteorologist Craig Edwards and FOX 17 Steer Clear Traffic with Samantha Russell.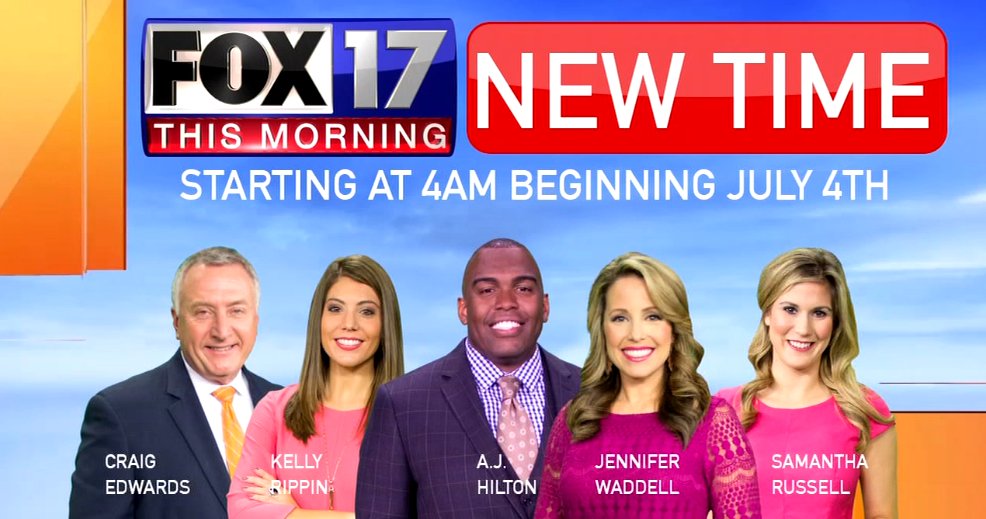 Again, this joins WKRN 2 (ABC), WSMV 4 (NBC) and WTVF 5 (CBS) in broadcasting local morning news at 4:00am, as WKRN 2, WSMV 4 and WTVF 5 have done for years and this provide the area's first-ever 5-hour weekday morning newscast as the program will soon be on-air from 4:00-9:00am.
Exciting stuff at WZTV 17. Just hoping they expand more news to weekends at some point.