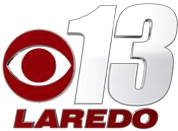 FIRST ON THE BLOG: Another local station in this country is joining the 6:30pm news craze and this time, in one of the smallest markets to potentially do so.
Starting Monday September 12th, KGNS 8 will add a half-hour weeknight newscast at 6:30pm for its sister station, KYLX 13. KGNS Evening News at 6:30 on CBS 13 Laredo will be home to the area's ONLY local newscast on at that timeslot.
With the extra half-hour, Laredo will now have two hours of weeknight local news with half-hour news at 5:00 and 6:00 on KGNS 8, half-hour news at 5:30 on KGNS 8.2 (ABC) which is home to ABC Laredo and now, the new and upcoming 6:30pm newscast on KYLX 13 – CBS 13 Laredo.
The newscast can be seen on digital channel 13.1 as well as on Cable Channel 6 and on DISH/DirecTV Channel 13.
In terms of Laredo TV history, this is the first newscast to be seen on KYLX-LD 13 since 2006 on the former unit of KVTV 13. Back when there was KVTV 13, there was just one local newscast in 2005 called Nightcast from 10:00-10:35pm but was cancelled very early in January of 2006 and there hasn't been any local news since then until just now with a local newscast coming for KYLX-LD 13 in just less than two weeks time.
So a return of sorts but also a new local newscast and timeslot for a familiar station, this time provided by the most dominant station in the Laredo market. Bar none.