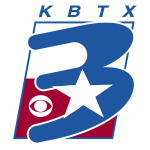 FIRST ON THE BLOG: KWTX and KBTX are sister stations and have recently added an extra half-hour of local news within different sets of channels.
First, the larger of the two: KWTX 10. The station has recently added a half-hour weeknight 9:00pm newscast on its second digital subchannel, known as CW 12 Central Texas (hence the cable channel slot on most providers in the area). CW 12 News at 9:00 now competes against KWKT 44 (FOX)'s half-hour nightly 9:00pm newscast, which as of March 2017, is still produced by their sister station KETK 56 (NBC) in Tyler – Longview – Lufkin – Nacogdoches.
Finally, the smaller one: KBTX 3. Btw, it's the smaller one mainly because it's considered a semi-satellite of KWTX 10. But anyways, it has expanded its morning newscast by a half-hour earlier to now start at 5:00am. KBTX News 3 – Brazos Valley This Morning now airs from 5:00-7:00am and joins the other stations (Central Texas and Brazos Valley) in the market in airing local morning news at 5:00am. It previously started at 5:30am and was a 90-minute morning show.
So an extra half-hour from each since both are sister stations thanks to Gray Television. Good news for the viewers, I guess.